The former Maine Aquarium in Saco closed in July of 1997 but will re-open again in Biddeford by spring of 2009. Plans were to re-open in spring of 2008 however this has been delayed one year as this country struggles to rise above the current economic recession.
The new Maine Aquarium will be much bigger and better, and have more exhibits then ever.
This web site is much the way it was left when the former Maine Aquarium closed in 1997 but we will be having a new state of the art web site to match the new Maine Aquarium.
WANTED: Photos, videos and/or your personal experiences at the former Maine Aquarium when it was located in Saco. Please send photos, videos and comments with mention if we may display them on this web site and if so that you grant such permission to do so without any request of compensation or other benefits. Please forward them to director@maineaquarium.org.
Anyone submitting such photos, videos or comments that will be displayed on Maine Aquarium's web site will be rewarded with a one year Annual Membership to the Maine Aquarium which will provide unlimited free admission to the Maine Aquarium for one full year during regular business hours ... and other benefits.
Your suggestions are always welcomed. Please send your suggestions and comments to: director@maineaquarium.org.

Click here to view unedited excerpts from happy patrons photocopied from the "Visitors Register" at the Maine Aquarium.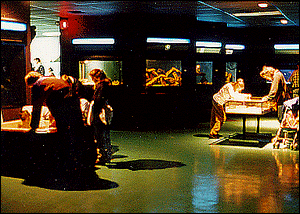 Enjoy an exciting journey through Maine's only year round public aquarium, one of Maine's most popular attractions!
View and experience the educational and entertaining exhibits of a wide range of live, aquatic animals in a safe and comfortable environment.
Plenty to see and plenty of free parking.

Click here to take our on-line tour of the Maine Aquarium.
Check out some of our amazing things to see and experience!

Information on admissions, special offers, feeding times, and more!

Membership application

Our Forty Fathoms Banquet Center inside the Maine Aquarium
is available to rent for ALL your special occasion needs (after regular exhibit hours only)!

Plan your Wedding Reception here!
We can seat 225 guests comfortably in our exhibit gallery for your dinner event (after regular exhibit hours only)!

Plenty of Kid Plans available, from Birthday Parties to School Trip Discounts!

Visiting Maine? Check our Maine tourism links.

Contact us!

The Maine Aquarium accepts all major credit cards.
The Discover Card, American Express, Visa and MasterCard.
You are visitor number
.

Maine Aquarium
Note: This site was constructed years ago during the early entry of the world wide web and when the general modem speed was 9,600 bps, thus the reason photos, etc., herein were kept at a minimum. Though sub-standard by today's technological advances this site remains available for your viewing to give you an idea of who we were and what the Maine Aquarium was about... and all without a dollar from the taxpayers!