MAINE AQUARIUM OFFERING
November 1, 2020
MAINE AQUARIUM OFFERING YOU A REWARD FOR YOUR PHOTOS AND VIDEOS OF THE MAINE AQUARIUM!

The former Maine Aquarium closed during the peak season in July of 1997. It was located on a 70 acre parcel of land off U.S. Rt 1 (across from FunTown, U.S.A) in Saco, Maine.

Plans were underway to redevelop the Maine Aquarium but again the Maine Aquarium encountered unexpected setbacks...but the dream is still alive and stronger then ever.

This web site is much the way it was left when the Maine Aquarium closed in 1997 but efforts will be underway to upgrade this site.

Maine Aquarium will pay you $25.00 for each photo and $50.00 for each video taken inside or on the grounds of the Maine Aquarium that you allow Maine Aquarium to post on this website and that does in fact become posted on this website.

Please send photos, videos and comments acknowledging your ownership of the photo(s) or video(s) and authorizing Maine Aquarium to display them on this website in return for compensation as stated above.

Please provide your name and address along with any other useful information such as the date or the approximate date photo(s) or video(s) were taken along with any other useful or interesting information. Please forward photos or videos to director@maineaquarium.org.

If by regular mail please mail them to Director, Maine Aquarium, PO Box 107, Kennebunkport, ME 04046.

Your suggestions are always welcomed. Please send your suggestions and comments to: director@maineaquarium.org.

Click here to view unedited excerpts from happy patrons photocopied from the "Visitors Register" at the Maine Aquarium.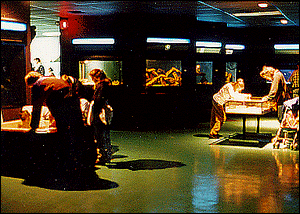 Enjoy an exciting journey through Maine's only year round public aquarium, one of Maine's most popular attractions!
View and experience the educational and entertaining exhibits of a wide range of live, aquatic animals in a safe and comfortable environment.
Plenty to see and plenty of free parking.

Click here to take our on-line tour of the Maine Aquarium.
Check out some of our amazing things to see and experience!

Information on admissions, special offers, feeding times, and more!

Membership application

Our Forty Fathoms Banquet Center inside the Maine Aquarium
is available to rent for ALL your special occasion needs (after regular exhibit hours only)!

Plan your Wedding Reception here!
We can seat 225 guests comfortably in our exhibit gallery for your dinner event (after regular exhibit hours only)!

Plenty of Kid Plans available, from Birthday Parties to School Trip Discounts!

Visiting Maine? Check our Maine tourism links.

Contact us!

The Maine Aquarium accepts all major credit cards.
The Discover Card, American Express, Visa and MasterCard.
You are visitor number
.

Maine Aquarium
Note: This site was constructed years ago during the early entry of the world wide web and when the general modem speed was 9,600 bps, thus the reason photos, etc., herein were kept at a minimum. Though sub-standard by today's technological advances this site remains available for your viewing to give you an idea of who we were and what the Maine Aquarium was about... and all without a dollar from the taxpayers!